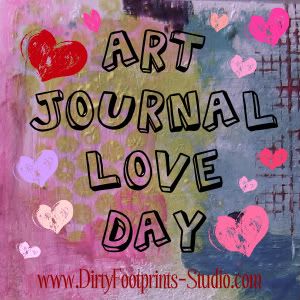 So my friend Connie is having a Valentine Art Journal Love party through Friday over at Dirty Footprints Studio.
I haven't had time to do any art journaling this week, but I did take the time to create some fun Valentines for my Dearest Loves on Sunday. I thought I'd share them with y'all.
I have five kids.
Have I mentioned that before?
Five---count 'em---5.
Five kids.
And when Mama's an artist, it just wouldn't do to give them store-bought Valentines, no matter how lovely, or how thoughtful the sentiment.
Mama wouldn't do that anyway.
Mama rarely buys anything that she can make!
So for YOU, my Loves, I thought I'd share a quick little Valentine-Lovie tutorial, and show you all how I made five Valentines in a hurry (because Mama also does most everything by the seat of her pants.... oops!).
I started with some adorable little 4x6" canvas boards, some old book pages, a little sheet music and checkerboard paper, paints, bubble wrap, and good ol'
Mod Podge
(have I mentioned that my Secret Love is really Mod Podge ;) ??).
Supplies for this project:
canvas boards
sheet music
black and white paper
old book pages
paint: red, yellow, white, black, metallic gold
Mod Podge
Harlequin (diamond) rubber stamp
old credit card
bubble wrap
assorted paint brushes
paper towels
water
Pitt Pen, black, optional
I slathered those canvases but good with Mod Podge, ripped up the book pages and plastered them onto the canvas using an old credit card to press out any bubbles and make sure everything adhered properly.
Then I dry-brushed red paint over them messily, followed by scraps of the sheet music and the black and white paper, again with the Mod Podge and the credit card.
The next phase---bubble wrap (gosh I love bubble wrap!).
First I used the bubble wrap and a little black paint sponged on randomly.
When the black dried (and I'm extremely impatient, so I use a heat gun or a blow dryer to speed things up), I followed it with some white paint on bubble wrap.
No idea why this photo is sideways; it was correct when I loaded it :-/
Over the bubble-imprints, I slathered on a coat of yellow paint, on which I immediately dripped water.
I waited for a minute or so (I hate to wait! But this step doesn't work well if you try to rush it with a dryer), then blotted up the water and a great deal of the paint, until I was satisfied with the look of it. This step is tricky, and it sometimes has to be repeated.
And this photo is upside down....*sigh*
Here, I've used a bit of black paint on the edges, dragging it over the edge of the front a bit to "grunge it up" a little.
Next I used the gold metallic paint on the harlequin stamp to make random, partially-stamped images at the sides of the top and opposite bottom, again wiping off bits of the paint until I was happy (and you know what they say, if Mama ain't happy......).
The finished product---
For the finishing touch, I painted on a wonky red heart, highlighted a bit with the metallic gold.
The hearts seemed a bit flat to me, so I shadowed just a tiny bit on the right-hand sides with a black Pitt Pen.

Below is a variation for a daughter---
I added a layer of splattered blue paint after the yellow splatter, mostly wiped it off, then used purple and red for the heart.
I also used a touch of paper with French script instead of sheet music, and a scrap of pink paisley paper on the upper side edge. Looks a little more...ummm...girlified.